Issue 12 / February 2022
Do you allow yourself time to be inspired?

Especially if you're a writer, designer or anyone else who makes something from nothing, seek inspiration often.

I encourage our creative team to explore music, fine art, nature, even unique foods. Then, I remind them to keep their senses tuned into those experiences. The sights, sounds and flavors can inform their work and infuse it with a fresh excitement.

One example: our agency's writers spent a recent afternoon at a glassblowing studio, learning how to make glass paperweights. (Watch the video.) That work has nothing to do with the marketing services we provide, but it put our team into an unusual creative atmosphere for a few hours and allowed them to use their imaginations in a different way.

And at least twice a month, we analyze the work of creators from many diverse disciplines - never to copy it - but to expose ourselves to other perspectives and see how we might apply the essence of what we like about it to our own content.

Regardless of what you do, give yourself and your team permission to refill your creative tanks now and then. Actively seek inspiration. It'll be time well invested.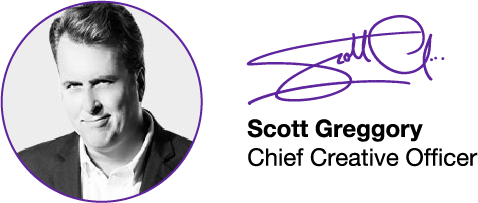 Short on time? Tiny budget? Understaffed? Believe it or not, working with fewer resources can be creatively inspiring. See how in two short stories and a video.

6 Commonly Confused Marketing Terms
Ask five people to define "brand" and you'll get five different replies. It can be tough to keep marketing terms straight, but this clarification on a few of the basics might help.

Striving for Greater Reach
Caring for people with Alzheimer's and dementia is important work. So, Kemper House Worthington asked us to establish their online presence to spread the word about their efforts.

The Ambassadors of Healthcare
A regional senior care provider needed an updated logo, plus consistent collateral across 25 locations and an easy way to order those materials. Read about - and see - the solution.

Magic Marker?
While it may seem like Jon Marker pulls rabbits out of hats, it's not magic. He's actually a hard-working, client-focused problem solver. Meet the new Director of Business Development in this quick video.

More Than Ever, Your Callers Need to Laugh
Helping customers laugh is a nice win. Helping them laugh while on hold during a pandemic is a serious win, especially since most people don't laugh much at work. Check out these stats.

The Tax Form That Does Double Duty
Did you know one of your nonprofit's tax forms can double as a valuable marketing piece? Learn how you can use Form 990 to attract people and funds to your organization.