Issue 17 / July 2022
If IP targeting and geoframing are not part of your marketing plan, I urge you to look into both.

The tools give you access to the focused audience you choose, and then allow you to serve them ads or other content.

Want to grow market share by catching the attention of your competitors' customers? Would you like to step up your recruitment efforts? Or maybe you want to follow up with prospective customers who visited your business recently. IP targeting and geoframing allow you to actively target the people you want to reach.

Learn more in my post "Comparing IP Targeting and Geoframing."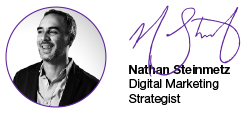 See how a librarian's initiative led to delighted visitors, a good PR opportunity and a more interesting workplace. There's an employee retention angle that you can apply, too.

Driving Traffic
Southern California is a competitive market for automotive repair, but we helped a 30-store chain gain new ground and became their "favorite provider of services" along the way.

Listening and Reacting
This New York City practice had a problem: the people taking advantage of their free hearing tests were not converting into patients. See their solution.

Building a (New) Foundation
Refreshing an older brand can be tricky. Even if updates are long overdue, it's often important to retain the best, most recognizable aspects of the look. Here's an example.

5 Audio Marketing Benefits
Just some music and messaging? Nope. Audio Marketing can deliver a lot of value for your customers, your staff and even your brand. Check out these benefits.

Calling as a Business Strategy
During the quarantine, the world was reminded of the value of human connection. That's why it's still important to pick up the phone now and then when communicating with customers.

What You'll Need to Do to Start a Nonprofit
From research and funding to business development and staffing, there's a lot to consider. Here's a guide to getting up and running.